German "godparents" visiting Anura College – big surprise for Malki!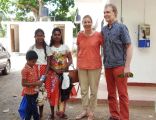 Although there are school holidays because of the Singhalese and Tamil New Year's celebrations, visitors from Germany arrived at school to meet their scholarship child, her mother and little brother.
Both sides seemed to be quite excited, but when meeting, there was relief and much happiness. Even two of the English teachers and the Venerable High Priest welcomed the guests.