The day before the great event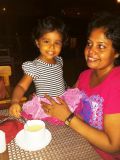 I should start meeting some friends, because there are only 2 ½ weeks left to meet lots of them. Rukmani, a bank assistant who has been helping us in bank affairs from the beginning of our work in 2005, succeeded in getting me into contact with a bank manager to start our monthly scholarship transfers end of January. I invited her for dinner, and she was accompanied by her younger sister, brother in law and little niece.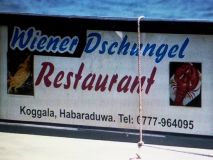 Bad luck – for them, but not for me – it was a Srilankan buffet this evening offered by the hotel restaurant. Anyway, everything was very tasty and no one had to starve. Although, there was no alcohol served this evening because of "full moon" or "pooja-day", a Buddhist habit once a month. No problem for us to do without.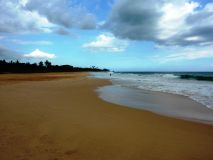 This weekend was perfect and helped me to take a deep breath before the exciting events of tomorrow's opening ceremony at Anura College. Bright sunshine, best weather for swimming (-you can't imagine that there is snow and ice in Germany-), going for a long walk along the beach to the "Wiener Djungle", a beach restaurant where a Srilankan and a huge German flag outside welcome the guests….., which might be difficult to understand for Austrians. ("Wien" is the capital of Austria). It takes 25 minutes to walk there from the hotel, along the water, may be three of four people you meet on that way, a beautiful dream, really, and not to compare with beaches most tourist might be used to. Of course, there are even beach areas in Sri Lanka that are crowded, hotels close to the water, lots of beach chairs, lots of little snack bars and restaurants, more garbage, more watersports facilities. It's up to you to decide what you like or don't like. But here, on this part of the south coast, on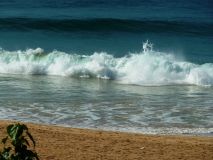 this beach.…, everything seems to belong only to you, kilometers of water, sunshine, silence (- except for the roaring of the waves -)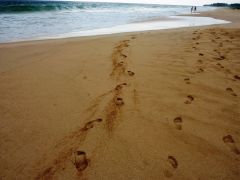 At "Wiener Djungle" I meet a man from Germany who knows about and appreciates our association and its projects. Some years ago he had his own house built here in Sri Lanka, near Weligama, and spends more than half of the year in his second "home country". He told a German couple, friends of his, who have arrived here a few days ago for holidays, about our projects and was able to convince them and get them interested in our activities. The three of them want to accompany me tomorrow morning to Matara, and we all are looking forward to having a great day, full of surprises, at Anura College. So, you can imagine what the next report will be about.