Remembering December 26th 2004 – sad origin of our work in Matara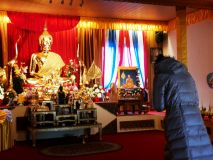 Today is the 14th anniversary of the terrible tsunami that on December 26th, 2004, brought destruction and much misery around the Indian Ocean – also in Sri Lanka – and claimed more than 200,000 lives: the cause for Neuwied-Matara Friendship Association to work and help schools and students in Matara on the south coast of the island southeast of India.
This is also the reason that Ridmi (for the second time) came to Germany, on the one hand a great fortune, which she can use by means of the sponsorship program of the association to build her future from it – on the other hand, this day is a very painful one for her, because it destroyed her family 14 years ago, and her childhood and adolescence was not an easy time.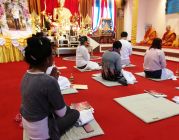 In the Buddhist center in Wassenach near Lake Laacher she has the opportunity to get closer to her roots and traditions, and so we spent the day in this place where she can pray and talk with Buddhist monks. Although these monks and several parishioners we meet there are from Thailand, the prayers have their origin in Pali language, which Ridmi, like all true Buddhists, can understand and use in her prayers. The conversation with monks and other members after the ceremony is just in German and English. Then

we are invited for lunch. It is very similar to Sri Lankan dishes with rice, vegetables, coconut, ginger, pumpkin, but also sweets for dessert like mango, grapes and sweet pastries. Surprisingly, there is even meat, which probably is not eaten by monks in Sri Lanka. Finally, the main monk presents the blessed bracelet made of woolen threads – also for me – and the friendly invitation to come back soon.


This was a really good experience for Ridmi, and the following walk round the Lake , the clear sunshine and the ice-cold winter air, the visit of the abbey church, Christmas decorations, manger and angels, the afternoon prayers of the

Benedictine monks …. complete the cultural program for today. Somehow, everything fits together and seems to bring our souls into balance. We are fine – and that's the way it should remain!
We also wish from the bottom of our hearts that, soon,  it will be fine again for our manager, Mr. Sagara Abegunewardene who has been suffering from his heart illness for many, many weeks now. By this way here, we send our best wishes for recovering including all his friends in Germany and in Sri Lanka who will think of him in deep appreciation and gratitude and hope so much that he can participate in our board meetings again very soon.