Journey to Sri Lanka: Diary of our vice president. Day one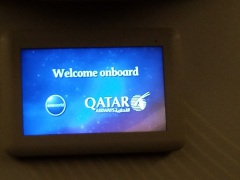 A long day lies ahead of me, or let's better say, two days. Start in Neuwied at seven in the morning, motorway to Francfort  Airport, which is a tiring thing to do because of all those building sites. Check in is no problem, because I sent ten kilos of those German language books in a parcel via a transport agency. That means that I could finally take all the gifts for scholarship students, lots of pens and some other items you may need apart from clothes. Quiet flight to Doha. 40°C were announced, but luckily the transit could be realized inside the airport buidling. Four and a half more hours to reach Colombo at 3 in the morning, local time. Customer's check, passport control and luggage belt were the next stops to be passed; change of Euros to Rupees the final activity before leaving the airport, and meeting the driver who was waiting with about one hundred other people to meet someone and take him or her to the final destination.
Heavy rain from time to time demanded a lot of attention in that darkness even on the Highway from Colombo to Mirissa. Arrival at about seven in the morning. There were some tourists in my room who did not need to leave it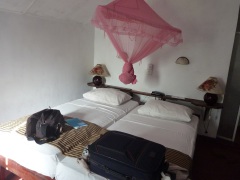 before high noon. So I was offered another room to take a rest and have a cup of tea for the time being….and, of course, inform my family and friends that I was ok. Finally, I could move in, unpack, do some phonecalls to tell Srilankan friends that I had well arrived and discuss the first steps and activities in the following days.
I enjoyed so much seeing the Indian Ocean, the rough sea in front of my window, huge waves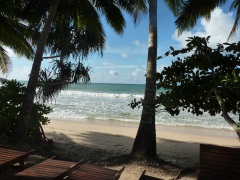 and palmtrees on the shore. Dinner at the hotel restaurant brought back nice memories of Srilankan food, rice, fish and vegetables, papadam and a very hot (devilled) sauce. Too tired to have a dessert, I went to bed to enjoy a quiet and relaxing night – but the moskitos did not agree with my plan!