First visit at the new Lord-Mayor's office in Neuwied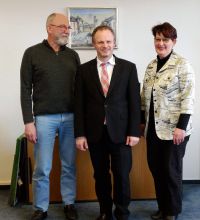 President Mr. Bernd Mertgen and Vice President Mrs. Edeltrud Pinger attended a meeting at the urban administration of Neuwied and were happy to accept the Lord Mayor's invitation. For the board members it is important to know that the first citizen, the Lord Mayor of the town, Mr. Jan Einig, appreciates the association's activities. He represents the town of Neuwied, and the name of this town is part of our name:
Neuwied-Matara-Friendship Association.
His predecessor, late Mr. Nikolaus Roth, was a member of this association and travelled twice to Sri Lanka to visit Matara and our projects. For us, it is important to know that we can rely on the new Lord Mayor's support as well. We first met him at the Annual General Meeting in January, and he was deeply impressed – as he told us – because of the enormous commitment proved by the useful and helpful projects at Matara Schools during the last 13 years.
Mr. Jan Einig granted more than one hour of his precious time to his visitors. He promised to give us support whenever possible, using valuable contacts and appreciate our activities, and even to become a member of our association. Thank you very much, Sir! Bohome istuti!