17th journey to Matara, Sri Lanka – Diary from 3rd – 23rd of July 2018
July, 30th 2018
I'm sorry that I could not give daily reports when I spent this exciting time in Sri Lanka. So, here you find the entire diary. Pictures have been added to the German version. Please, press button "Deutsch" ( = German) here on the right side. Thanks for reading and appreciating our work and projects in Matara. Edeltrud Pinger, vice president of Neuwied-Matara-Friendship-Association.
July 3rd, 2018
Landing of Qatar Air in Colombo. But I'm the only one of the three of us in that aircraft, whereas the other two companions have to take a different plane some hours later – different travel agencies = different planes. That means: one transfer at night time and arrival at about 7.30 a.m. in Mirissa and the second one, along with a wonderful sunrise on the coast line, three and a half hours later. Impressed by that gorgeous scenery, they even forget to take a picture. So, let's have a look at the impressive beach, still decorated by a German flag, ignoring the painful result for Germans in the World Championship! – ? But it turns out to be the yellow-red sea-watch-flag and a dark branch on top causing this optical illusion. (Continue reading…)
Journey No. 17 – Off for Sri Lanka again!
July, 1st 2018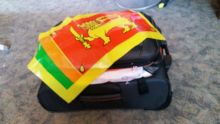 All my bags are packed and the next journey will start tomorrow morning. Clothes are not that heavy, but all those little parcels with gifts for scholarship students handed over to me by their German godparents. These gifts are meant to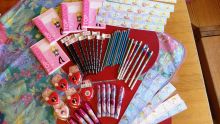 be small, thin, not heavy,…but when there are about 25 of them, it's quite a lot of kilos. Besides, there are those advertising specialties offered by V+R Bank Neuwied-Linz and Mrs. Seibt who is running a stationary's shop and always donates some very nice bits and pieces, such like pens, rulers, erasers, etc. Students of Anura College will be very happy about these little gifts, because these are things they usually cannot afford. (Continue reading…)
Dance and media
June, 14th 2018
(Please, see pictures in German version, pressing the button on the right side -> Deutsch)
There were two generous donations from Neuwied-Matara Friendship Association in June 2018. First, look at the new costumes for Anura dancing group with teacher Mrs. Lakshmi who trained the girls with effort and great energy. So, they were able to achieve a remarkable result and victory. The new costumes will certainly mean even more motivation for coming events.
Second, now Anura Vidyalaya can use a new projector, tablet and loudspeakers that were donated by German friends. It's important for the school to have good equipment and use modern media. With regard to 125th aniversary, there will be celebrations and ceremonies, in the course of which the new devices will be particularly helpful. In the hot and humid climate, they must be well looked after and treated with care.
Big thanks go to all donors.
Obituary for a helpful friend – Swarna Navarathna
June, 4th 2018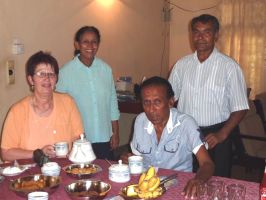 With great sadness we have to say good bye to Mrs. Swarna, sister of our manager Mr. Sagara Abegunewardene, and dear wife of our former Srilankan coordinator Mr. S. B. Navarathna. The picture was taken in the year 2012 in their house where Mrs. Swarna and her husband used to welcome guests from Germany who were visiting project schools in Matara. Mrs. Swarna always enjoyed inviting us to have lunch, tea and cake at their place and showed particular hospitality. (here: Mrs. Swarna, her husband, Mr. Sagara and vice president Mrs. Pinger)
We will keep her in mind with great appreciation and wish – with regard to her Buddhist belief – Nibbhana! May her husband and her sons feel comfort when thinking of her with love and thankfulness and may she rest in peace!
Good bye, Anna – we will miss you!
May, 18th 2018
(See corresponding pictures in German version – Press "Deutsch" here on the right side.)
Last day for Anna at Anura College. What a pity! It's so sad. Time flies.
Yesterday Anny could watch theory lessons in the dance and music room, but today a group of girls is demonstrating the art of dancing in a very impressive way. Fantastic! Those girls start early when they are talented and go on learning a lot, dancing in groups in traditional ceremonies, on weddings or other festivities. So, regular training and practical exercises are necessary, and it's a big advantage to have excellent teachers. Anna wants to try and learn some steps and movements. Not that easy, when you are used to disco-fox, hip-hop, etc. But it is great fun, and anyway, Anna has a real sense of music and rhythm. (Continue reading…)