Our late manager's wish will be fullfilled – Project work to be continued
January, 19th 2019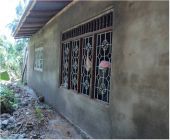 After the death of our highly appreciated managing director Sagara, activities of Neuwied-Matara-Friendship-Association continue, of course. He would have wanted it that way, and he's with us in all these actions somehow. He joined us in our last decision to create a good livelihood in some social hardship cases, and decided with us to build a house for an orphaned sibling couple. It's nearly finished. Only some more weeks for final works, and they can move in and make use of their own home!
We mourn the initiator, co-founder, great supporter of our work in Sri Lanka
January, 2nd 2019
Sagara Abegunewardene
died on New Year's Day 2019 after a long illness.
We think of him with great respect, gratitude and appreciation and wish his family strength and comfort.
With regard to Buddhist belief we wish that he may attain Nibbana.
May he rest in peace!
Remembering December 26th 2004 – sad origin of our work in Matara
December, 27th 2018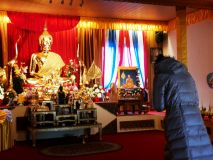 Today is the 14th anniversary of the terrible tsunami that on December 26th, 2004, brought destruction and much misery around the Indian Ocean – also in Sri Lanka – and claimed more than 200,000 lives: the cause for Neuwied-Matara Friendship Association to work and help schools and students in Matara on the south coast of the island southeast of India.
This is also the reason that Ridmi (for the second time) came to Germany, on the one hand a great fortune, which she can use by means of the sponsorship program of the association to build her future from it – on the other hand, this day is a very painful one for her, because it destroyed her family 14 years ago, and her childhood and adolescence was not an easy time. (Continue reading…)
Work and leisure time combined in harmony
October, 7th 2018
(Pictures are published in the German version – Please, press "Deutsch" here on the right side.) In addition to working during the week at Anura College, there are opportunities waiting at the weekend to provide insights, such as the art of woodcarving, a bit different from what you may have seen in the course of the German carpenter training.
That's in the nature, or better, in the culture of things. An experienced old wood carver, whom his companion visits to give this impression to Christian, demonstrates his way of working and its results. That is what Christian is interested in, and he can discover differences in material, tools and working methods. The master likes to demonstrate his arts and crafts and voluntarily shows his skills to the young visitor.
His companion, the English teacher Wasantha, has planned more for Christian this weekend. Of course, the German gets to know his family, wife and three sons, and together they go to some places, far away from the tourist "sightseeing". The large rainforest, not so far from the civilization of Matara, lets you experience pure nature with huge trees, rare plants, beautiful flowers and wild, powerful waterfalls. A picnic is prepared, and immediately "sudu uncle" – the white uncle – is involved and is given much more information about flora and fauna. A really impressive experience … .with friendly people who welcomed him and let him into their lives and showed great hospitality.
Master of his trade at Anura College
September, 27th 2018
(Pictures are published in the German version – Please, press "Deutsch" here on the right side.) There have already been lots of visits by friendship-association board members and others, sponsor-parents, young German trainees,…who all contributed to some work and support  when visiting the school. (more information about the association's activities, see www.tsunami-kinder-matara.de )
Now, it's Christian, son of sponsor parents, who visited his "scholarship-sister"on the very first day, and the two of them can be seen here in a picture. His trip around the island will have to wait a bit, because, first, he wants to offer his knowledge and abilities as a carpenter and start making some tables, chairs, shelves or more at Manthinda Temple School and Anura College in Matara and perhaps, he can even teach some of the young students to learn about this valuable handicraft.
He finished his training some time ago, which enables him to repair furniture and make new objects. He can even show his skills to young Anura or Manthinda students. That's a fantastic project that we all admire with appreciation, respect and gratitude.
Differences between Germany and Sri Lanka become soon obvious with regard to the quality of tools (particularly electric saws, drills,…etc.) The Neuwied-Matara-Friendship Association will help with some money to buy important tools and material, and Christian invests lots of time and great effort to achieve useful results.
And – surprise! – In the shopping center he is addressed by a Singhalese woman who asks him where he comes from. And when he said "from Germany! I'm working at Anura College, Matara" the next question was: "Do you know Mrs. Pinger?"…and it became obvious that she knows about this association and that she is a close friend, a bank assistant, who helped in recent years with business questions. Nice coincidence…and a selfie, of course, to prove what happened.
We are looking forward to good handicraft-objects, and we wish Christian lots of success, patience, calmness and a quiet manner with regard to local standards of quality, safety arrangements, sense of perfection and tools, which might differ from German standards. So, it's a Srilankan standard, particularly for young monks, to work barefoot and be careful with splinters of wood, nails or even dangerous tacks on the floor. Lord Buddha will hopefully bless and protect them!
That is definitely an unforgettable experience – and Anura College will be happy about new tables, chairs, shelves,… and much more. Bohome istuti, Christian!