Report of our journey to Matara, Sri Lanka, January 2015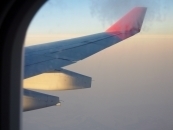 Here we are again: all my bags are packed, and tomorrow I'll be sitting (me = Edeltrud Pinger, vice president of our Friendship Association) in the plane to Sri Lanka. Looking forward to meeting my friends at the south coast of the island and my students who are rather willing to learn German – with the help of English, because their teacher is not as good at Sinhala as she should be, on her eleventh visit of the country……and my "Personal Assistant" Sabine Wirges, responsible of our scholarship children, is going to come with me, of course).
January 12th, 2015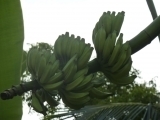 Preparations for German lessons are being taken. Today, it's a free Monday for me, because the result of Sri Lankan elections will be discussed (new president!). By the way, our Pope Franziskus, leader of the Catholic Christians, will visit Sri Lanka tomorrow. But, we won't meet him, I guess.Time enough to explore plants and animals on this beautiful island and get ready for tomorrow and the following days.
January 13th, 2015
First visit at Anura College to start German lessons. There are three groupes that will participate: grade 6-7; grade 8-9 and grade 10-11.The youngest will start, and they welcome us with a bunch of beautiful flowers for Sabine and me. But before starting the lesson, the Venerable Highpriest of Mantinda Temple School also gives us a hearty welcome and seems to be very happy that he can offer – by our help – learning another foreign language to his students.
He makes sure that we will not starve and orders a meal and tea for us after the lesson.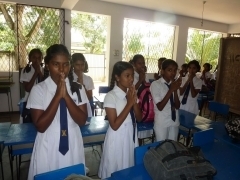 Here we go: about 20 young students are waiting in the English-Medium-Room (part of the building donated by the Neuwied-Matara Friendship Association in 2012). First words in German: "Good morning, My name is…., and what is your name? – How are you? – Thank you, I'm fine, and how are you? …This is my friend Lahiru,,and this is my friend Prasath (see picture). Good bye!"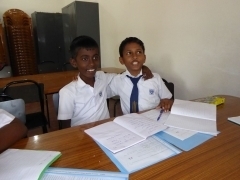 The English teachers, Mr. Wasantha and Mr. Sarrath, support in Sinhala when English and German are too difficult.
There is so much ambition and enthusiasm that Mrs. Pinger nearly forgets about a break. But after really hard work the students need a snack and drink. There is a nice blue folder from Germany to keep the papers and that is the end of the first lesson. A very friendly and appeciating "Good bye" shows the students' thanks and looking forward to the next lesson.
January 14th, 2015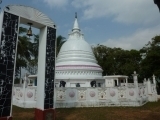 Pope Franziskus was in Colombo today, but we could not go there to see him. Multi-religous understanding helped us to visit a Buddhist dagoba instead. Lots of steps under heavy sun demanded good physical condition – but we finally managed to reach the top, and the wonderful view over the ocean rewarded us.
January 16th, 2015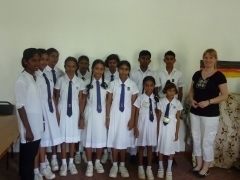 The first meeting of all our scholarship children, their parents, sisters and brothers at Anura College was a big success.Shining eyes and enormous pleasure about letters and gifts from their German sponsors, honest words of thanks and appreciation uttered by the parents (the Englishteacher Mr. Wasantha translated from Sinhala into English)….., all this showed clearly that we are on a good and meaningful way, although it might seem to be only a very little step.I'm sure that those students will follow my demand and encouragement for more and further ambitious learning and studying, which means a real chance for their future.
January 18th, 2015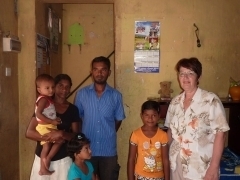 Today, Sabine (responsible of our scholarships) and I visited eight scholarship students and their families, in Matara, in some suburbs and far away in the countryside.Without our driver, Englishteacher Mr. Wasantha, without his car and knowledge of the places to go to, we would not have been able to do that. Amazing to see how these families live, that they have to do without a lot of things and what importance they grant to good school education for their children. Thus, our help is truly justified. Little space to live on with many family members, long and troublesome ways to school, little or no money for some extras in life…, all that does not prevent them from showing their true heart, gratitude and hospitality that makes us somehow feel ashamed. They all want us, of course, to thank the donors in Germany, and tell them how much they appreciate this support. When we are back in Germany, we will inform all our sponsors individually. If someone is interested in supporting a child at Anura College, please feel free to contact us. We will tell more about scholarship students who need a sponsor in one of the next days.
January 19th, 2015
German lessons in the morning as usual for Sabine and me and the three groups in turns. Then, there are other things to do. Today, there is a visitor from Colombo, a well-known writer for Daily Mirror and Sunday Times in Sri Lanka. Our manager, Mr. Sagara Abegunewardene organised this meeting, and there were lots of activities to talk about. I could also give him some photographs that might help to describe our association's work quite well. Let's see what will be published soon.
Then, Sabine and I were invited to the Venerable High Priest's office where all the newly elected prefects of the schoolyear 2015 came together. He wanted me to make a speech and tell them about the importance of English as a foreign language.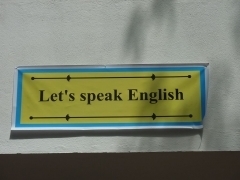 I had noticed before that there were lots of boards on the school premisses, advising the students to speak English, in different subjects and even in private communication. This is certainly an intention that makes sense, but not easy to be put into action. Foreign languages are doors to the world, particularly English language. And for the small island of Sri Lanka, for their young inhabitants, this language really means a key to doors that offer access to the world with regard to growing economic development that can be proved in the past and is still going on. Good English is important, anyway, even to attend and follow my German lessons, because my knowledge of Sinhala is really poor.
January 20th, 2015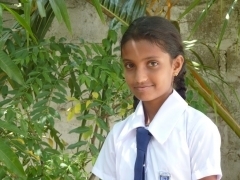 It was a very quick decision to let a new child enter our scholarship programme. We know that millions of children in the world need more help, but here we are to do what must be done. Wasana is in grade 8 at Anura College and the oldest of five children, the youngest daughter was born five days ago. Her father, a fisherman, cannot do his job at the moment, because he has to look after two children aged 4 and 2 1/2) while Wasana accompanies her younger sister, grade 3, to school and back home and looks after her. There is no income at the moment, because their father can't use his fishing rod or net, as he has to stay at home day and night, care for four children, his wife and the baby. It is a really bad situation, and the little money we could donate spontaneously, is just a necessary help.

There is a lot of responsibility that Wasana has to bear on her young and tiny shoulders. We would very much like to accompany her school education with regard to more chances in future, and try to find a sponsor who is willing to make a better future possible for Wasana by a monthly contribution of about 25 Euro. There are some more similar cases ( = that means, children) that deserve our support and whose gratitude and appreciation will be a wonderful reward.
In the attached pictures you will see Wasana (fisher's daugher) and Nethra, grade 4, who are looking for godparents who might be ready to help. If you are honestly interested and willing to support one of these children regularly, please contact me. Boheme istuti – Thank you so much.
January 22nd, 2015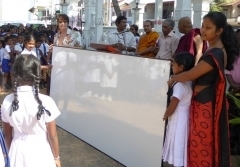 Today I had to interrupt my German classes, because there was a meeting on the schoolyard with about one hundered students. Some of them were given a certificate because they had won first, second and third prices in different school competitions and they deserved being rewarded in front of this audience. As a special guest I was allowed to hand over those certificates. Good occasion for our Srilankan coordinator, Mr. Ruwan Abegunewardene, to deliver six new white boards, and for me, to hand them over to six primary classes which had to use wooden chipboards up to now. With shining eyes those boards were carried into their classrooms while older Mantinda boys gave them a helping hand. Of course, there will be white board pens, as well.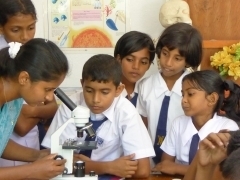 Before finishing our school day, we were given information in the course of a biology lesson (micro organisms in different kinds of water quality) and a home science lesson. (a delicous dessert made of jelly and biscuits). It is nice to see that in these well equipped new science rooms and in the home science room, part of the building that was donated by our Neuwied-Matara Friendship Association in 2012, lessons can be taught in good quality now.
Visits of two more families in the afternoon were the last items on our agenda. I cannot desribe the journey by bus in the afternoon from Matara to Ahangama and back in the evening to Mirissa. You should make the same experience – or better not?! Like a trip to hell with regard to driving style and unimaginable speed, along the road full of other busses, three-wheels, normal cars, trucks, bikers, pedestrians, dogs, cows,…. You certainly will believe in miracles again, and it really is a miracle that accidents are very rare, and that we have survived.
January 23rd, 2015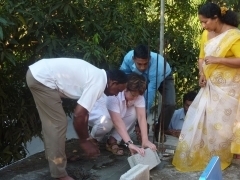 Reading the horoscope, the monks found out the auspicious time which was at 7.10 a. m. Early hour to get up and lay the foundation stone on top of the groundfloor ceiling. So, the first floor can now be constructed which will enable Anura students to use more room for reading and studying. We listened attentively to the monks' songs and prayers, and when the exact moment had arrived, I could lay the first stone being given a helping hand by the constructor; Mr. Silva, facing the sunrise in the east. Buddhist customs and the entire ceremony were very impressing and created a solemn atmosphere. Let's hope and wish that expectations will be fulfilled and the new building will be put up successfully and can be used in summer 2015.
January 25th, 2015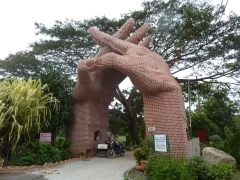 Weekend without school and lessons – no problem! Sri Lanka has lots of beautiful things to offer instead. East of Tangalle on the south coast of the Indian Ocean, there is a beautiful botanical garden (Bata Atha Farm), where you can see a few native animals, exotic foreign species of trees, native vegetables, flowers and fruit which you are even allowed to collect and eat. There are wonderful places where you can sit, enjoy the scenery and relax. A place, well looked after, teaching you a lot about biology.
January 27th, 2015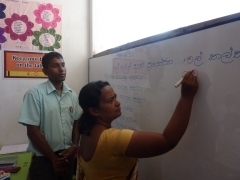 Today, we nearly could have had a board-meeting, because half of the board members were present: our member Claus Herbst, Sabine Wirges, responsible of scholarships, myself as vice-president and our president Bernd Mertgen, who are staying somewhere near Matara at the moment. We all met at Anura College. After the German lessons, we visited the school premisses and different school classes of grades 5, 6 and 7., where the new whiteboards are in use. All students were given pens (donated by German companies and banks) and we enjoyed the students' pleasure and thankfulness that seemed to be really honest.
January 28th, 2015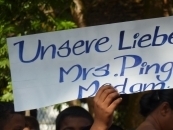 Final day at Anura College for Pinger madam and Miss. Sabeena. At 9 a. m. we were welcomed with flowers at the schoolgate and led to the schoolyard. Our president, Mr. Bernd Mertgen, was with us again and highly surprised about the good quality of the programme, which was entirely presented in German. This was the most precious reward for me to listen to the students' making use of the foreign language in a really good quality. Of course, Sabine had helped a bit, but the students' work was overwhelming. Then, it was my turn to go to the microphone and sing a German song which was accompanied by singhalese dancing – a funny performance!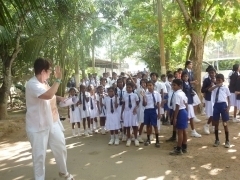 There were lots of nice posters with my portrait and good wishes in German that I'm allowed to take home to Germany tomorrow. Lunch in the home science room, prepared and served by home science students, was very delicious.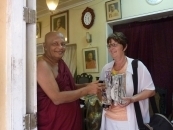 Last visit at the Venerable High Priest's office who showed his appreciation for our work with the students and gave us two bottles of palm honey (treacle) as a traditional souvenir. Bohome istuti = Thanks a lot for the wonderful time at your school, and Ayubowan = wish you a long life! – We will come again!
January 30th, 2015
Back again in Germany – difference in temperature of 30°C – jetlag – That's life! – There'll be another journey to Sri Lanka soon!