Ten years of useful support – We want to go on and we will!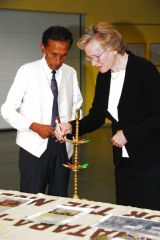 After the reception, mid-September, given by our Lord Mayor (see preceding article) on the occasion of the tenth anniversary of our Friendship-Association, we welcomed friends and citizens, all those who were interested in our activities, to inform them within the context of an exhibition (photographs and a film) about our numerous and successful projects in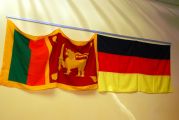 Matara. The day before, board members decorated the hall, put up boards with lots of pictures, posters, etc. and typical Singhalese objects. At 11 a. m., the vice president Edeltrud Pinger welcomed the arriving guests, the new patron Princess Sophie Charlotte zu Wied, town-counsellor Michael Mang deputizing the Lord Mayor of Neuwied, lots of association members from Neuwied and other places. Our manager, Sagara Abegunewardene, lightened the oil lamp together with our patron, which reminded us of ceremonies in Sri Lanka. On this occasion, Princess Sophie made a short speech, expressing great appreciation for everything that has been carried out in Matara schools so far. She praised the competent way of helping students, encouraging them and paving their way for a successful future.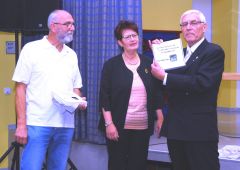 The farest distance had been covered by Mr. Otfried Blümchen, former president of LIONS Club Helsinki, Finland. He is German, but has lived for many, many years there with his Finnish wife. He travelled to Neuwied to celebrate this anniversary with his German friends. In 2007, he met members of Neuwied-Matara- Friendship-Association in Sri Lanka and supported their projects by some donations of Lions Club Helsinki. He congratulated his German friends on their successful and beneficial work and handed over some presents from Finland with best regards and wishes of his club. In her power-point-presentation, Edeltrud Pinger allowed her audience to gain some insight in the association's activities of the last ten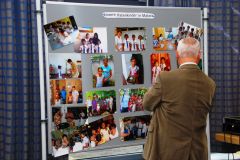 years, starting with pictures taken shortly after the disastrous tsunami, photographs of the first construction works at Rahula and Sujatha College, classrooms and more buildings at Rohana and Anura College, of opening ceremonies, etc. In the last part of her presentation, she informed about scholarships and the way to support needy families and students individually and help them to face a better future. As a result: we have done a lot already, but there is still a lot to do. Our president, Mr. Bernd Mertgen, is not only a Sri Lanka-expert he also is a fantastic cook. So, he offered the visitors a fantastic Srilankan meal using original ingredients and spices. All those who have been to Sri Lanka already and have experienced Srilankan food will have recognized the typical taste with great pleasure. Our members Mr. and Mrs.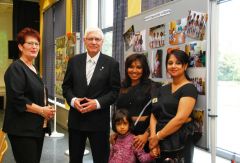 Barthlen who travelled to Matara in February 2015, visited two of our project schools (Rohana Special School and Anura Vidyalaya) and made a nice film about their visit. The audience liked it very much, and our Friendship Association gives them a big thank you for this impressive and professional contribution. Apart from these items, the visitors talked a lot to each other about their experience during their visits or future plans of the association. Only two weeks ago, Edeltrud Pinger came back from Sri Lanka and told her friends about the opening ceremony of the first floor in the new library-building at Anura College. They discussed what can be done in future although there are not many donations anymore. At the moment, an old building, next to this new one, is being demolished, where a nice open break hall is meant to be put up. There are three more scholarship students that Mrs. Pinger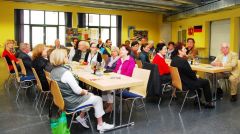 accepted during her last visit, and fortunately, corresponding donors (godparents) have been found already. Yes, we all know that there is an enormous trouble spot here in Germany at present time. There are, day after day, more and more, thousands and thousands of refugees coming to our country, which means that problems must be solved that we cannot and should not deny. However, our activities in Sri Lanka will go on. And this example will prove that good education and favorable facilities at schools will strengthen the country and the children and make them contribute to the development of their country and face a better future more easily. If only this way could become a possible one everywhere….!