Signal example: Everybody could do it!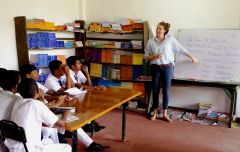 This morning it is Alexandra's turn to do the lessons in German combined with Geography. The little globe, with its different colours for each country, helps a lot to find countries like Austria, for example, which seems to be as large as Sri Lanka. Now we learn to say in German where we would like to travel and which language must be learned to get along. "I would like to travel to Germany. I have to learn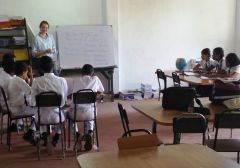 German." [Ich möchte nach Deutschland reisen. Ich muss Deutsch lernen."] That is the pattern that serves to do more sentences and probably initiates some wishful dreams. If those students will be able to go or given the chance of going abroad one day, who knows? Let's hope for the best.
Early afternoon, the two presidents of Neuwied-Matara-Friendship-Association head off for visits at Sujatha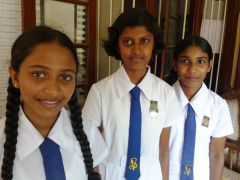 Vidyalaya and Rohana Special School. At Sujatha College, we have been sponsoring three girls from their very beginning in grade 6. Very talented girls whose families live far away from Matara and could not have financed the hostel fees. Now, the young ladies are in grade 12 and will face A-level-exams next year. Two of them want to become a doctor, the third one dreams of studying Political Science. We hand over some little gifts and ask them to write a letter to their sponsor-parents that I can take back to Germany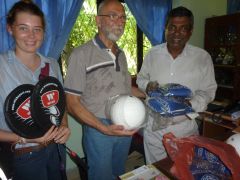 and stay in steady contact.
Rohana Special School (for blind, deaf and mentally retarded students) always surprises us whenever we step into their premises. We did not have any date arrangement, but just tried to meet the principal or his deputy lady. There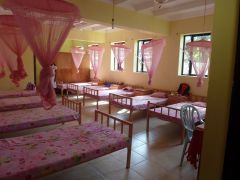 is no difference; you somehow feel welcomed and cordially received inside the school, in hostel rooms, dormitories, classrooms,….and outside it is the same. The atmosphere is friendly,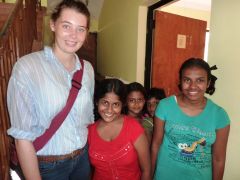 everything is clean and tidy and everybody, students, teachers, wardens and the principals alike, seem to feel responsible and carry out this motto in their community.
There is no enforcement behind but self-evidence of offering those handicapped children a child-orientated environment. That is the way it should be! We meet the Principal, Mr. Abeygunewardana, in his office and hand over a number of sportsgoods: volley balls, badminton rackets, …etc. The money was donated by one of our members, Mr.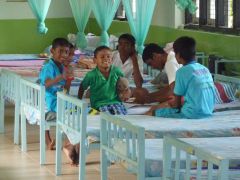 Martin Klein, who collected money on the occasion of his 40th birthday instead of being given presents. There was not yet enough money for the high jump equipment, but the fact that all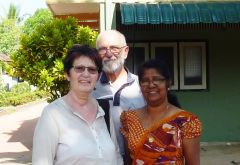 those handicapped children are given the chance to discover their talents and to receive a good education in many fields, is absolutely appreciable and justified. This school and their way of focusing on their students capacities in such a striking and overwhelming way, really seems to be a remarkable exception.