Science lessons become clear, vivid and demonstrative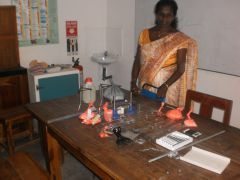 Science department at Anura College is lucky to buy materials and small equipment for lessons, particularly in chemistry.
Dr. Thomas Behnke from Neuwied, a diabetologist
, got informed about our projects in Sri Lanka and turned out to become a generous supporter. For the second time already, he donated money, and teachers and students are really happy to use these things in science lessons and generate a vivid and concrete image of chemical processes.
Science teacher, Mrs. Lakshmi, and her colleagues provided a wish list that could be actualized last week. Our reliable coordinator, Mr. Ruwan Abegunewardene, accompanied the science teacher and offered his van to go to Galle for shopping and transport. Materials, substances and gadgetry for about 300 € (approx. 45,000.00 Rs) can be used in science lessons now, and deliver insight into processes closely related to practice. Thanks a lot, Doctor Behnke, bohome istuti!