Our projects are in a constant state of flux – which costs money!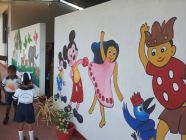 For many years we have been lucky enough to initiate and to finish lots of projects at Anura College: two two-storeyed buildings with specialist rooms, comprising furniture and equipment, washrooms, a library and even a small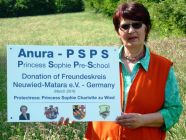 preschool. There were curtains for some rooms, two sewing machines, racks for music instruments, office cupboards and a cupboard to keep sports equipment and even a table-tennis table. Some of these things were sponsored by generous donations; others were financed by the friendship association.
As mentioned in former articles, "the years of plenty have passed" and our association has to set its sights lower. Anyway, we have not ceased carrying out the one or other project, last but not least because of the support given by our Federal State Government in Mainz for some of our projects. Besides, there were some more or less generous donations on the occasion of private birthday parties, when the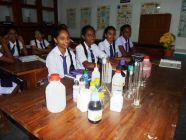 person celebrating an anniversary asked his or her guests to donate some money instead of accepting gifts. And this money helped to hand over some "extras", which would have been impossible without this generosity.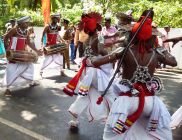 The latest "luxurious"donation that we could grant Manthinda Temple School, was the acquisition of dancing suits/costumes for the traditional drummers and dancers of this boy school. Big joy and gratitude will certainly be the answer to this donation. (We have not had any photographs yet and are waiting for them.)
Our next step may not be spectacular in any way, but it's not an incidental occurrence, and some importance is to be attached to the school's external perception. This means that school administration, teachers and students must be convinced to keep their premises clean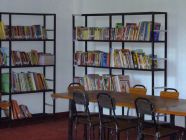 and tidy. The garbage problem was discussed during our last visit in February and meanwhile, seems to be approached. With regard to the new buildings and equipment that is meant to serve not only the present students but also those who follow, it is necessary to preserve these goods and prevent them from falling to decay or let them get into a mess. Our coordinator in Sri Lanka, Mr. Ruwan Abegunewardene, has already bought some garbage bins that are put on the school yard, and garbage bags that are to be prepared for the regular pick-up.
To keep these bags in an appropriate place, a bit outside the students', teachers' and visitors' vision, a small shed is planned to be built on the edge of the premises by our constructor, Mr. Silva. Things that seem to be self-evident for us, for example a regular garbage disposal, does not exist everywhere in Sri Lanka. There is lots of garbage on the road side, along the wonderful coast road (A2). Dogs and cows are searching through waste in many places along that road. Sometimes, these rubbish heaps are set on fire to cope with the problem. In bigger cities there seems to be a regular refuse collection service, but there is no nation-wide collection-system, not to mention waste separation.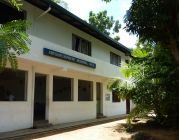 Garbage bags are collected from time to time – when they are not torn to pieces too much by animals. Regular cleaning or sweeping the streets or areas in front of houses seems to be an exception. So, how can we teach the children to develop their conscience of appreciating cleanliness and attaching great importance to that item in their school premises? We hope that school administration and teachers will understand and help. Anura and Manthinda School Administration and our German Friendship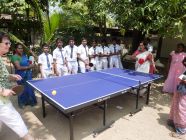 Association, we all must stay in contact, and we must talk in the course of our visits. Our two cultures should meet in mutual straightforwardness and respect, because the most important aim is encouragement, strengthening and support of needy students, and we only can achieve that aim together when we agree about the same values that must be cultivated and preserved.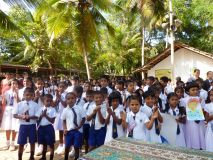 It's an environmental – and in view of our donations that are meant to serve more generations – a matter of Anura College and Manthinda Temple School. We should not exaggerate our proverbial German thoroughness and consider different weather conditions and life-styles. But why not tackle some rethinking? – And school (and family) is the most appropriate place where courses can be set. It is clearly possible, as can be proved in some schools we have visited (Rohana Special School, Jamburegoda School,…)
Here we are asking those who can afford and wish to support us, to have a look at the following specified purposes of use, and kindly transfer their donation to the bank account given below:
SK Neuwied, IBAN: DE 58 57450120 00 30041800  (Contribution receipt goes without saying)
Maintenance and repair of new buildings and equipment (painting, extension of teaching material for the college)
Sports facilities with the objective of promotion of handicapped students at Rohana Special School.
Sponsoring of Jamburigoda College near Weligama, where essential facilities are missing.
More equipment for the newly built preschool (f. ex.: teaching material, soft undersurface outside the classroom for swing, climbing tower, etc.
In the name of all the students who can be benefited, we thank you so much for your donations.