Informative "godparents' day" spiced with impulses for more continuity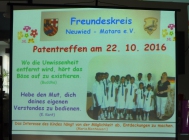 Yesterday, October 22nd, the Board members of Neuwied-Matara-Friendship-Association came together to welcome about twenty "godparents" at Weinhaus Adams in Neuwied to give them details and news about the origin (tsunami, December 26
th
, 2004), start of help and different activities (January 2005) and development of projects at schools in Matara (till today and still going on). President, Mr. Bernd Mertgen, welcomed sponsors and other guests, among them the Princess Sophie of Neuwied, protectress of the new preschool at Anura College (PSPS = Princess-Sophie-Pre-School).
Vice-president, Mrs. Edeltrud Pinger, gave a speech of about 90 minutes, showing numerous pictures stressing the different milestones of the association's activities, emphasizing scholarships for students of really needy families. There have always been convincing reasons to accept those children in our programme. The first of these children, a boy of Rahula College, successfully passed his A-levels last August. Two more boys will follow as well as three girls of Sujatha College who will sit their A-level exams next August.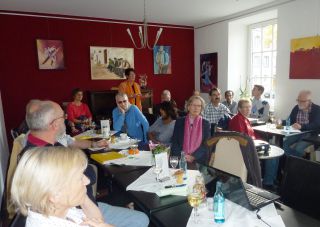 Most of our current scholarship students go to Anura Primary Section or attend Anura College, a school with a very poor and needy catchment area. Children of these families are meant to be supported during the following years and should be given the chance of facing their A-levels and passing them successfully and thus, increasing and improving their chances for a better future. There are really difficult and sad fates to be discovered in some families, and we certainly cannot solve all their problems, but our main intention is to strengthen the students, offer a good school education and enable them to take part in tuition lessons. Board members try to visit schools and families regularly. There is a Srilankan coordinator in Matara looking after different projects, which means supervision and check-ups, from time to time at least.
After the presentation, a lot of questions had to be answered, because the "godparents" showed enormous interest in the students' life and development at school. They really want "their" children to be given a fair chance of an appropriate education, and they seem to be ready to accompany these children on their way to a successful result. Thanks a lot for this commitment.
Neuwied-Matara-Friendship-Association is very thankful for the sponsors'support. The board-managers hope to attract more interested and prospective members or "godparents" being ready to take over a new scholarship.