Here we go again! – The Indian Ocean and Sri Lanka are waiting!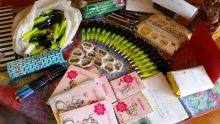 The vice president of Neuwied-Matara-Friendship-Association, Mrs. Edeltrud Pinger, is planning her 16th journey to Sri Lanka in mid-September, and there is a lot of planning, organizing, collecting,..…although there is always the danger of her suitcase bursting at the seams.Last Saturday, a board meeting took place and the members discussed Mrs. Pinger's tasks and duties to be performed in Matara. Checking the former projects and buildings, commissioning repair works if necessary, teaching German lessons, visiting  –  at least  – nine scholarship students and their families at home, talking to their parents – assisted by our school coordinator Mr. Wasantha, of course. It is really important to be serious when selecting new scholarship students.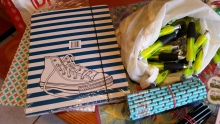 We want to understand why they apply for a scholarship and why they are suggested by teachers or their own parents. We want to make sure that they are ambitious and hard-working students, friendly and communicative with regard to corresponding with their "godparents" in English. Those who are too young, can write letters in Sinhala, because two of our board members in Germany are native Singhalese.  Lots of the students write regularly, but others are rather lazy and must be remembered to write from time to time. The German sponsors really want to support those families that often have to face an economically difficult situation, be it because of unemployment, poverty, illness,…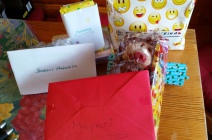 Some of the godparents kindly asked Mrs. Pinger to hand over some letters, little presents or even some extra money to their sponsored child. And even those, whose godparents could not contact Mrs. Pinger, won't have to go away empty-handed, because there are lots of little gifts donated by a stationary-shop, for example: pencils, erasers, notebooks, fluorescent pens…etc.  And one of Mrs. Pinger's former students from Neuwied collected lots of pens with his friends, and kindly asked her to take them along to Sri Lanka and make them find new owners.
We are very grateful for all the donations given to support monsoon-affected families at Anura College and Manthinda Temple School. In June about 100 families received an amount of 5000 Rupees each that might have meant some relief. But there were about 180 on the list, and because of further donations in July and August, we will be able to be of some more assistance now.
We have to thank all those who contributed to the realization of the new house for a really needy family, living in severe and bad conditions. Now, the house is finished apart from some wood work, plastering and painting that will be done soon. Mrs. Pinger will certainly visit the house and the family in much better conditions now and take some pictures to give evidence to the German donors.
BIG THANKS TO ALL HELPERS ! ……or, as Singhalese people would say: BOHOME ISTUTI !