"Godparents' Day" in Neuwied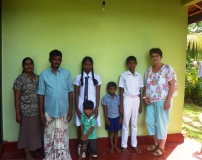 Neuwied-Matara Friendship Association kindly invites all sponsors (supporting a child in Matara and granting a scholarship) and those who want to join in supporting a child, to meet on Saturday, October 22
nd
2016,  at
"Weinhaus Adams", Pfarrer-Werner-Mörchen-Straße 2, 56564 Neuwied
at 2.30 p.m. Please, announce your coming via email:
Some weeks ago, our Vice president, Mrs. Edeltrud Pinger, came back from her 14th journey to Sri Lanka. She will report about her activities and about meeting scholarship students and their families. Photographs will accompany her report and demonstrate that the association's work bears fruit and that a lot of children and families can benefit from those scholarships. Much more can and should be done.
The board members are looking forward to welcoming you and happily accepting your commitment and support.
Bohome istuti = Thanks a lot.