First Chairman Mr. Mertgen meets German Ambassador in Colombo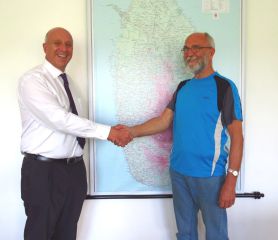 In February, German Ambassador Dr. Juergen Morhard (left) met the President of Freundeskreis Neuwied-Matara e.V. Mr. Bernd Mertgen in Colombo.  Mr. Mertgen informed the ambassador about the association's work, activities and projects, such building two hostels in Matara in 2006 and 2008, additional school buildings and classrooms, and donating corresponding equipment since 2005 till today. The organization has enabled education for orphans and underprivileged children. Since 2008, they have been offering monthly sponsorships to some poor students at Rahula and Sujatha College, supported by German sponsors and the Friendship Association. Currently, they cooperate with Rohana Special School and Anura Vidyalaya. The focus is on Anura College, where economically weakest and needy students are given scholarships and are supported regularly by German god-parents.
The ambassador showed honest interest and thanked Mr. Mertgen, his German association, members and generous donors for their precious help. Probably, there will be an opportunity in future to visit the association's school projects in Matara and meet German helpers at work. Welcome, Mr. Morhard!