Final preparation for take-off to Colombo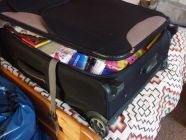 Five more days before the aircraft of Srilankan Airline takes off in Frankfurt and goes to Colombo. Ten hours – direct flight. Let's hope that the transfer Colombo-Mirissa is well organized and takes our vice president, Mrs. Edeltrud Pinger, to the south coast. There is the new highway now, which means that it takes only less than three hours to go there instead of 5 ½ hours in former times. Arrival at the hotel will be early in the morning, nearly four hours ahead of Germany where people will still be fast asleep. This first day might be used to prepare and plan first items. Getting used to the humid and hot climate can't be so difficult after those really last hot days in the area of Neuwied-Germany. No problem!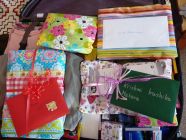 The suitcase is full to bursting. 30 kg are permitted, and it is not easy to reduce approximately 45 kg to those 30. Some things must probably stay at home and wait for the next journey in January 2017. Sponsors had been asked to give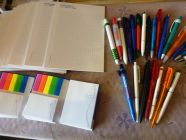 only small, flat presents of low weight to "their" children. Fortunately they did so, and all their gifts will be taken to their scholarship students, of course. There are all those pens and other things (see preceding article) waiting to be

taken to Matara; a huge map of Europe can be folded and hidden in the lid of the suitcase. Everything gets squeezed and crushed, and it will be interesting to see the final result on the scales. We know that the students are looking

forward to receiving those little gifts and will enjoy. Their gratitude is often expressed in friendly and appreciating letters.
There is still the "board case" that will be carried as cabin-luggage, containing a pair of sandals, some t-shirts and blouses, not to forget a swimsuit, although it is doubtful if there is enough time to spend on the beach with regard to the long list of tasks to fulfill, things to arrange, people to meet, etc. But – there should be at least some minutes to enjoy the sunset, a king coconut as refreshment, put the feet into the sea water,…..It will only take some more days before leaving, but why not start dreaming some days earlier?!!!