Final fight for clean water – Happy about new sports facilities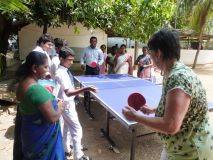 There are only two days to do what must be done before I'm going back to Germany. I want to visit some of the new scholarship children at their homes. Mr. Wasantha gets permission to accompany me, because without his help of translation I would be lost. I want to buy a writing desk for one of the scholarship girls; some curtains for the new building (library and ground floor office) make sense to protect the rooms from wind, dust and rain. The table tennis table donated by our member Martin Klein (on the occasion of his birthday) has been delivered and should be put up and "tested".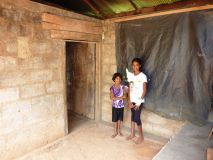 Let's go! Those two visits won't leave me cold. I've seen quite a lot of poverty and need so far, but the two cases of this morning are rather severe and intense. A fisher's family really lives below the poverty level. There is a little solid house, but nearly no furniture. In one of the few rooms, there is one bed for four girls. The mother and youngest baby sleep on a kind of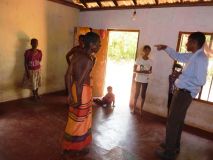 carpet and a blanket on the floor. Father is no big help to the family. (?!) There are some uncles and one aunt living close to them, all of them disease-ridden and jobless. Only that aunt (suffering from a twisted and crippled foot and leg that never has been treated by a doctor) does a little job to scratch a living for all of them. Even clear and clean water, indispensable to life,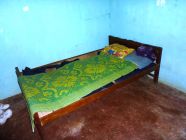 is not available. The nearest water connection is about 500 m away from their place, and to get a water pipeline and tap at their place will cost about 25.000 Rs, an illusory sum of money for these people. That means going to a nearby well, sanitarily questionable, difficult to reach for young children and physically disabled people. We get the two oldest girls (13 and 8 years old) and one of their uncles into the car and drive to the "water-authority-board" to apply for access to water. I ask the teacher to administrate the money and stay in contact with that board and supervise the activities of coming weeks. I'm sure that my lonesome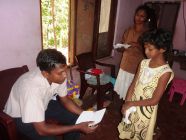 decision will be accepted in our association's board and that there might even be some donations for this item when readers of this report here feel sensitized. It's only about clean water!
The second visit that morning also tugs at my heartstrings. A little simple old house or better, shed, not lockable, a table, some old plastic chairs, some clothes piled up on them, no cupboard or wardrobe. Our scholarship girl is happy about the letter that the English teacher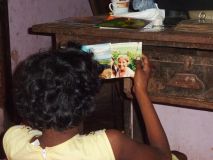 translates into Singhalese. She latches on the two photographs added to this letter, showing the German lady and her two adult daughters; some pens, some glittering stickers and some extra money (in addition to the first monthly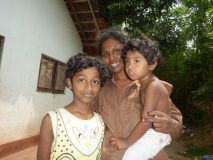 scholarship amount for January 2016)…, all this seems to be a kind of sheet anchor. I watch all this for half an hour, for the people in this place it is their life! Even the teacher, a native of this country, seems to fall remarkably silent and finally utters some words of sympathy and regret. He will talk to the girl's class teacher and ask her to give more proper care to that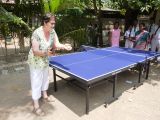 girl.
There is a more enjoyable atmosphere at Anura College when we come back: The new table tennis table has been put up. There are some rackets and balls, but for nearly all of teachers and students it is the first experience to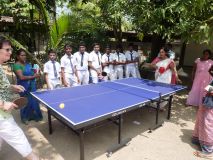 practice that sport. I did it about 30 years ago for the last time, but I still can do it, I didn't forget. And "among the blind, the one-eyed is king!" First they have to learn that the ball is allowed to touch one side only once, which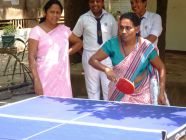 seems to be difficult enough. But they learn fast and quickly get hooked on this new activity. I'm sure the sports teacher will find out about the basic rules, and they will definitely surprise me on my next visit.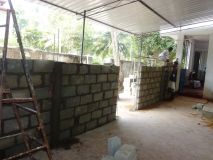 Finally there is the discussion with the constructor who promises to finish the new little pre-school end of February/beginning of March (see my report of January 28th).
Some teachers debate whether a good name might be

attractive. Last week I told them about the new patron of our association, the princess of Neuwied. The word "princess" caused real enthusiasm and was regarded as a suitable part of the new pre-school's name: PSPS = Princess Sophie Pre-School". We are all happy that the princess has given already consent, and we wish the new pre-school a successful start with the help of that princely designation.