Death of the Venerable High Priest – Manthinda Temple School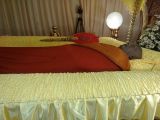 We wish to convey our deepest sympathy on the death of the Venerable Highpriest of Manthinda Temple School, Matara, Sri Lanka, and we would like to express our highest appreciation for his life time achievement. Venerable Getamanne Dammakirtti, Chief Incumbent of Maha Pirivena, passed away in the morning of June, 20th, 2016.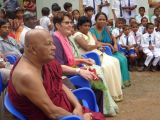 During all those years we could keep close contact, from the moment when our manager, Mr. Sagara Abegunewardene, happened to visit his former class mate at Manthinda Temple School in 2009. He was in the company of the Vice President, Mrs. Edeltrud Pinger, and those two board members of Neuwied-Matara-Friendship-Association were warmly welcomed at

Anura College, headed by this Venerable Highpriest. Soon, it became obvious that this school needed support. There was a lack of classrooms and of teaching materials; buildings were in a bad condition, which meant that chances for students and their future seemed to be rather limited.
Many of our friends and readers may have tracked our projects and may have seen what our association was able to accomplish for Anura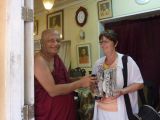 College. And this High Priest realized how much his students would benefit by our work and showed us his explicit appreciation. He was aware of the fact how important foreign languages are for his students. He set a high value on good English lessons and highly appreciated the German lessons that could be offered by our Vice president, Mrs. Pinger, (or Mr. Simon or Miss Alexandra), even though sporadically. He greatly enjoyed those performances in English or German language on the occasion of

different functions.
We want to express our thanks to "Nayaka Thero" for dedicating a big part of his life to school education for students entrusted to him, and for enabling our friendship association to support his school community and, thus, improving the students' chances for a better future.
According to Buddhist belief, Nayaka Thero will have deserved numerous merits that will smooth his way to rebirth on a high level. As a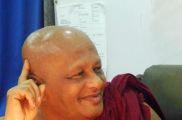 Buddhist monk, the aim of eternal enlightenment must be very nearest. From a Christian point of view, we wish him eternal peace and kingdom come. And even unbelieving or irreligious people will think of him with deep gratitude, recognition and highest appreciation. We all wish that his passion of granting good school education to all his students, particularly the needy ones, may be continued by his successor and may be embraced and adopted by all the teachers of Manthinda Temple School and Anura Vidyalaya.
R. I. P. (Requiescat in pace = May he rest in peace)